Dropping in time for its unveiling at Dell Technologies World 2023, the new PowerScale OneFS 9.6 release is a cloud-only version, supporting the freshly launched APEX File Storage for AWS solution.
OneFS 9.6 delivers Dell's first software defined unstructured data solution, simplifying the journey to the cloud with seamless data mobility, operational consistency between on-prem and cloud, and the file storage and data services PowerScale customers know and trust.
With the addition of Dell APEX File Storage for AWS, PowerScale clusters can now be deployed anywhere your data is, including:
OneFS 9.6 extends the PowerScale hybrid cloud to AWS, providing the same OneFS software platform on-prem and in the cloud, and customer-managed for full control.
PowerScale's scale-out architecture can now be deployed on customer managed AWS EBS and ECS infrastructure, providing the scale and performance needed to run a variety of unstructured workflows in the public cloud. Once in the cloud, existing PowerScale investments can be further leveraged by accessing and orchestrating your data through the platform's multi-protocol access and APIs.
This includes the common OneFS control plane (CLI, WebUI, and platform API), and the same enterprise features:
| | |
| --- | --- |
| Feature | Description |
| CloudPools | Cloud tiering to a choice of providers |
| Data reduction | Data compression and deduplication, reducing storage costs |
| ISV ecosystem | 250+ ISVs for OneFS |
| Multi-protocol access | Global permissions structure shared across users and protocols |
| SmartConnect | Policy-based client failover load balancing |
| SmartQuotas | Quota management and thin provisioning |
| SnapshotIQ | Fast, efficient data backup and recovery |
| SyncIQ | Asynchronous replication for DR |
The challenges and complexity of data locality are reduced by OneFS SyncIQ and SmartSync native replication between on-prem, cloud adjacent, and cloud-based clusters. As such, APEX File Storage for AWS enables workloads in the cloud with its clustered architecture providing linear capacity and performance scaling up to six SSD nodes and 1PiB per namespace/cluster, and up to 10GB/s reads and 4GB/s writes per cluster. As such, it can be a solid fit for traditional file shares and home directories, vertical workloads like M&E, healthcare, life sciences, and finserv, and next-gen AI, ML and analytics applications.
Hybrid cloud
APEX for file storage on AWS is ideal for moving IT workloads to the cloud to support archive, backup, file shares, home directories, etc: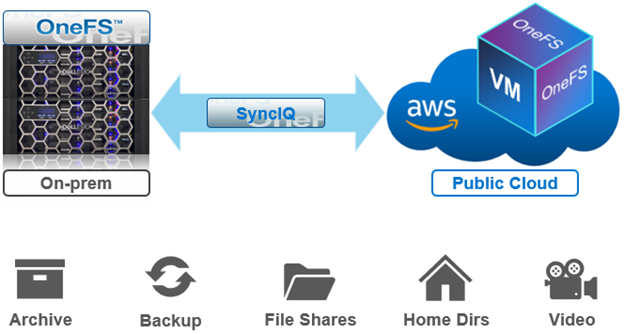 Use AWS for off-prem DR
File workflows can be migrated to AWS without requiring changes to storage architecture
Consistent user experience with on-prem PowerScale
Use OneFS features like SnapshotIQ and SyncIQ to natively replicate to the cloud
Use the same multi-protocol data services in AWS that you use on-prem
Cloud bursting
When workloads run short of computing on-prem resources, burst the extra demands to AWS cloud services:
Support compute-intensive workloads such as M&E, manufacturing, life sciences, analytics and more:
Use cloud for burst performance to power workload resource spikes
Native data replication services to move data to the cloud
Proven scale-out architecture provides leading file performance
Leverage AWS services to accelerate outcomes and control costs
Cluster licensing is capacity-based, sold in 1TiB increments, and flexible to cover HDD and SSD deployments. Support is included with the general license, as are all the supported OneFS data management and protection services. Subscription terms include 1-year or 3-year options, and existing AWS customers can apply their AWS infrastructure credits towards APEX File Storage. Plus, licensing is also available in a TLA.
So, in summary, the key features of this new OneFS cloud offering include:
Native replication
OneFS enterprise features
Customer-managed solution
Same user experience as on-prem
Scalability up to 1 PiB in a single namespace
Up to six SSD nodes
Leading file performance
We'll take a look at the underlying technology behind this new APEX File Storage on AWS cloud-based PowerScale solution in more detail in a future article.