Just a quick and shameless plug for Dell Technologies World, which kicks off tomorrow.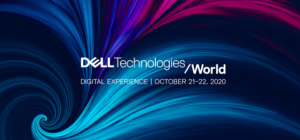 Unsurprisingly, it's being staged as a virtual event this year, and there is a full itinerary designed to help drive digital transformations and gain new insights to Dell's Powered-UP portfolio.
Storage and Data Protection activities include:
·         11 Storage and 8 Data Protection Technical Sessions
·         6 Mock-live Sessions with SME Chat
·         4 Traditional Hands-on-Labs
·         20+ Storage & Data Protection Interactive Technical Demos
·         8 Sessions with TheCUBE
·         2 Content Hubs with Videos, Infographics and AR Demos
·         2 Virtual Certifications (PowerProtect & PowerStore)
Registration is free – hoping you can stop by and check it out!